New Contest for Forum Members Only has already started!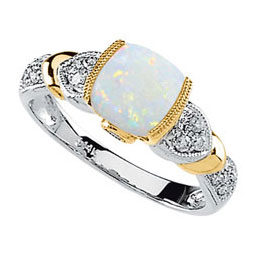 UPDATE: DECEMBER 3, 2011
A New Winner Announced! It was unfortunate but the original winner did not check in therefore a new winner has been randomly selected. If you are a member, click here to view the name of a new winner >>
UPDATE: DECEMBER 2, 2011
Winner Announced! Winner's name has been posted. If you are a member, click here to view the thread >>

UPDATE: NOVEMBER 30, 2011
Contest Closed. Winner's name will be posted in the Forum under the "Bonnie's Opal Ring Contest" page on December 2, 2011.
UPDATE: NOVEMBER 30, 2011
Register Now! This Forum Only Contest will be closed tonight. By registering and posting your required minimum post you will be automatically eligible for this beautiful Bonnie's Opal Ring. Lucky Winner will be announced on December 2nd!
UPDATE: NOVEMBER 4, 2011
If you have not already signed up to be a Member of the Forum, you should do it now! Do not procratinate. This contest has already started and it would end on November 30th. Winner will be annouced on the Contest page within the Forum.

UPDATE: OCTOBER 29, 2011
It is Official! Lisa has decided to create a Forum Members Only Contest. AND IT IS HERE NOW!!

Many of you will recognize Bonnie's Opal Ring. It is a beautiful white opal with diamonds around it and a tanzanite on either side, set in 18K white and yellow gold.
"This is our version of the gorgeous opal ring that Bonnie wore at the end of SHADOW SOULS and that Damon used to pay for expenses for himself and Bonnie in MIDNIGHT." ~ L. J. Smith
The contest duration is still being finalized but the rules are very simple. In fact, it is so simple that you do not even have to enter the contest because every Member of the Forum will be automatically entered as long as he/she has minimum of a single post in the Forum. So, while we are getting ready to post this contest in the Forum, go ahead and register, position yourself in a good fighting chance of winning this beautiful prize! The odds of your name being selected is extremely high since current membership count is less than 300. HURRY AN REGISTER TO BECOME A MEMBER.
UPDATED: 10/31/2011 – Contest Information and Rules have been posted.